Scarlett May – Luxury Courtesan with a love of kink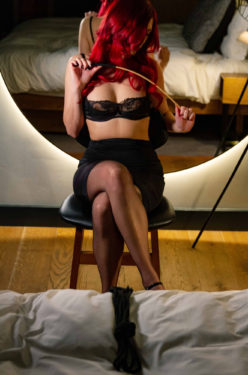 We all want something.
The longing glance from across the room. A finger's touch upon a thigh. A gentle caress. A firm grasp. To be taken by the hand and led to a lavish hotel room or a secret apartment. I know what I want, and so do you.
As we trade flirtations, there's an inflexion to my accent. It's the voice of a wayfarer from beyond these shores, born and educated in Australia. She now calls London home, but regularly ventures across the globe in pursuit of lustful adventure.
The nature of our encounter depends on your desire. I can be the powerful Domme finally putting you in your place, or the innocent submissive craving punishment. If your desire switches from the former to the latter, so does our time together. Kink has always stoked my desire, but I'm also drawn to the allure of a GFE in a restaurant or at the theatre.
Share with me your deepest desires. We can start with that longing glance from across the room. And where it goes from there, we'll have to see …
Contact Scarlett May – Luxury Courtesan with a love of kink