Luxury Companion, Harriet Harlow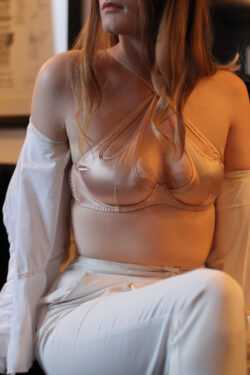 Au fait with dinner parties and older company from my youth, I became an Independent Escort in London to continue to enjoy my preference for the exquisite. Raised in London, with summers in the South of France, and educated at one of the top schools in the country, books and lovers are two of the pleasures I enjoy truly losing myself in. Thanks to this education, I have been graced with a well-spoken, mellifluous British accent.
My penchant for cultivated moments of intrigue has derived from my privileged upbringing that encouraged seeking experiences from outside 'the bubble'.
Fundamentally, it is exactly the unusual and the extravagant that I seek out.  I take immense pleasure in moments that end with an exultant gasp.
I have a very womanly shaped body. A tight waist with curved hips and long slender legs – that are deceptively strong – men and woman alike cannot take their eyes off. My all-natural breasts, and toned, round derriere act as the perfect complement to that hourglass figure. However, the most compliments I get are about my dazzling emerald, green eyes – that you'll have to see in person to be entranced by.
Contact Harriet Harlow – Elite Luxury Companion