Tamara Monáe – Elite Ebony Girlfriend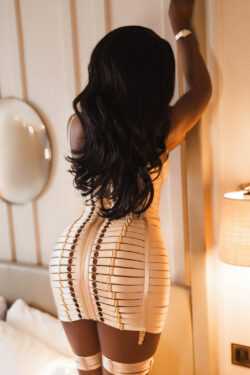 I am Tamara, your elegant, bubbly and unforgettable independent ebony escort in London. I'm educated with a degree in biochemistry whilst still being in touch with my sultry and playful side, I do enjoy the finer things in life (including you I hope) but mostly I appreciate relationships filled with substance – laughs, intimacy and great moments always create lasting memories. I am an all-around lover of life and consider myself a conversationalist with a great listening ear, I have been told I am the perfect confidante. One of the things I enjoy most about being a part-time girlfriend is the ability to share new experiences with new lovers, I am open about my kinks and love to explore my submissive side. I don't believe in staying inside your comfort zone, being daring and open to change are some of my favourite qualities.
​I have an array of personal interests from art to travel and I am definitely a lover of fashion and food!I love dining and enjoy cuisines from all corners of the world and even more in good company. I like to provide a completely authentic and enticing girlfriend experience to gentlemen that value pleasure, luxury and uniqueness in their lives, my hope is to always be a lingering thought on your mind. Whether it be black tie events where you intend to turn heads with an exquisite date or a lunch time rendezvous between meetings, I always hope to be your guilty pleasure and a diamond on your arm.
I value attention to detail not only in myself but also in experience, I believe if you're going to do something you must do it to the best of your ability. The the time we spend together should be relaxing and refreshing, I hope you relish in these fond memories…I am yours to explore and tease. I'm petite with high cheekbones, naturally full lips, almond shaped eyes topped with my favourite accessory – a smile. My skin is milk chocolate and beautifully smooth, I take pride in my appearance and physique with weekly maintenance, pilates and dressing to impress on every occasion.
I am a fabulous companion with a charming nature and a compelling lust for life – If you enjoy exploring your spontaneity, laughing over dinner, pleasuring your mind, body and soul then let us escape the norm together – an indulgence that should not be compromised.
Contact Tamara Monáe – Elite Ebony Girlfriend