Ivy Grace – London Curvy Courtesan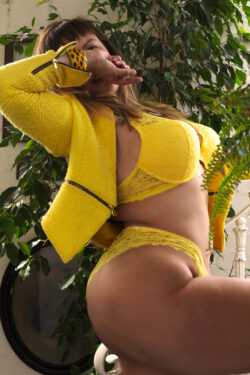 For a moment, all you see is the outline of my exaggerated hourglass, my hips filling the frame. Your eyes follow the curve of my small waist, gazing over my swollen bosom and stopping, transfixed at my kissable lips that have suddenly curled into a mischievous smile. 
The warmth of this greeting fills the room quickly and intuitively, I know exactly what you want.
Standing a statuesque 6ft in heels; my shapely, ample derrière slopes steeply in a sculpted fashion, from my astonishingly strong legs. The term Amazonian should come to mind, as you imagine how my long limbs and soft flesh will envelop you.
For the Statisticians amongst us and for those whom size seems to matter; my hips are a staggering 48 inches, my waist a tidy 32 and my bust, a buxom 36e. My plus-sized model features are mirrored in my height of 5'9'' barefoot. If specifics aren't important, then simply know that there is definitely more than a handful.
Charming, educated and witty, everything I do is infused with a naughty 'joie de vivre'. Expect our pillow talk to be littered with cultural quips, timely observations and revelations of our deepest desires. Some desires run deeper and darker than others. Don't be afraid to express yourself – if there's a will, there is most likely a way.
An explorer by nature, I've connected with a variety of people and places thus providing a rich tapestry of life experience and insight. I take great care of those who make the time to meet with me and I promise, my naturally inclusive attitude will put you at ease at once.
Privacy and discretion are absolutely paramount. I am very particular about my patrons and only host a few selective meetings a month. I like to meet respectful gentlemen. who desire an exceptional experience from a truly unique Mistress, Companion and Muse.
Tour Dates
Soho on August 13th, and then 15th-21st.
Contact Ivy Grace London Curvy Courtesan