Amelia Laurent London GFE and Domme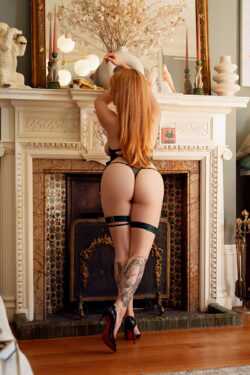 Let me introduce myself!
I'm Amelia Laurent, your fiery, redhead playmate based in London. Put simply, I am the charismatic, curvy redhead you didn't know you needed.
Delve deeper, and you'll find a woman whose intelligence doesn't dilute her playfulness, and whose playfulness doesn't dilute her desire to nurture fulfilling and longstanding relationships. The kind of woman whose glint in her eye hints at the repartee she so adores, and whose confidence in her bearing assures you that from the moment we meet, you're in good hands.
I am someone whose drive tells you she wants more from this life than the muted ordinary. Me? I want laughs; I want a tenderness that can only be found when stepping out of the banality of the everyday. You want the company of a woman effortlessly comfortable in her own skin; a woman who wants to touch yours, and to ignite a feeling that has gotten a little lost.
You want tenacity.
I dance to New Wave, Vivaldi through to Fleetwood Mac and back again. You crave – and I provide – understated that comes with a surety of self, of a woman who knows who she is, what she wants, and the company she desires.
As an independent elite companion, my body is more than it's social worth – although it's value, curves and art bring adoration from all parts of the world. Known for my shockingly blue eyes, which contrast with captivating red hair and pale skin, you could call me a modern-day pre-Raphaelite. You will no doubt be dazzled by my undulating curves, my small waist, plump lips and disarming smile. Enchanting is a word frequently used by my lovers, and when you see my hourglass figure saunter towards you from across the bar, you'll be unsurprised why.
With soft pale skin, I house a smattering of artistic tattoos, a collection which grows by the year, which I am happy to cover should our date require it, or show off to the envy of those around us. I also have a selection of piercings: nipples, a nose ring, and a medusa – just above those lips you've been dying to kiss.
Just as I am naturally curvy, with firm 30FF breasts and an exquisitely pert bottom ripe to the touch, so I am naturally hairy. Long may the bush reign, in my not-so-humble opinion. There is something so exquisite about gazing upon a woman unafraid of societal expectations, who wears her feminine armpit hair and natural bush unflinchingly, unapologetically, and oh so sensually.
Contact Amelia Laurent London GFE and Domme